Over 50 Years of Service and Success.
Founded in 1965 as a single truck dealership in Houston, Texas, Rush Enterprises has evolved into the premier solutions provider to the commercial vehicle industry. Today, the company is the largest integrated network of commercial vehicle dealerships and related businesses providing solutions to customers, both large and small, across the United States and eastern Canada.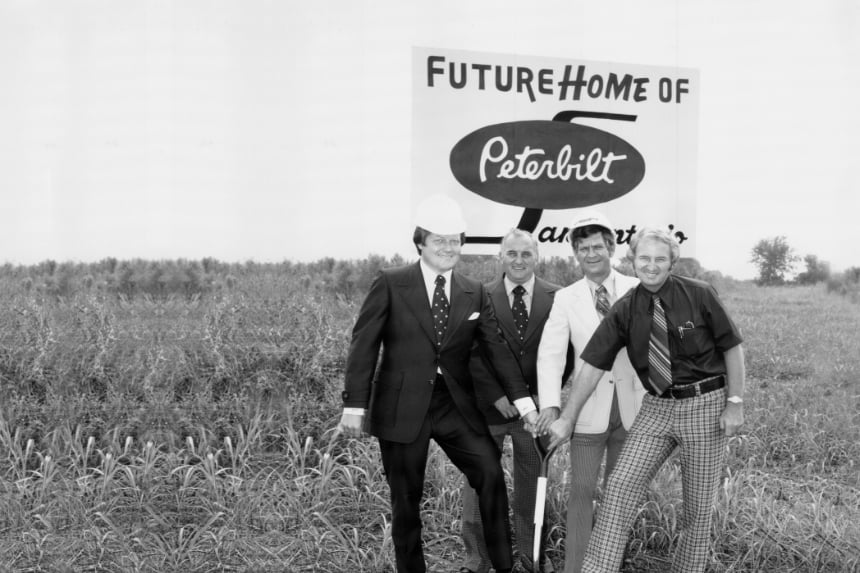 1965–1979
Humble Beginnings. Big Dreams.
W. Marvin Rush, the ambitious son of a bus company owner and our founder, began his distinguished career in the transportation industry opening a GMC truck dealership in Houston in 1965. At the time, the commercial truck sale business was still in its infancy, a fragmented market comprised of many small dealerships spread across the country.
But from those humble beginnings, founder W. Marvin Rush had a vision — to grow the company into a contiguous network of dealerships offering truck sales, leasing and service through a contiguous network of dealerships across the southern U.S. In 1967, the company made its first 100-unit fleet sale of Peterbilt® trucks and opened a Peterbilt dealership, the start of an enduring relationship with this premium manufacturer. Not long after, Marvin grew the company's offerings by starting a truck leasing company and a finance and insurance division, offering one-stop sales and service.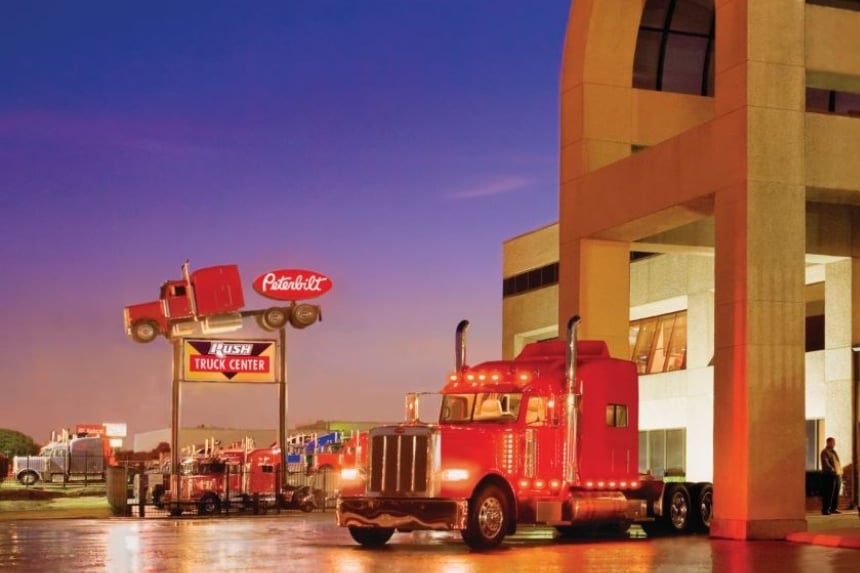 1980–1995
Steadfast Expansion.
Throughout the 1980s, the company steadily expanded its truck leasing, finance and insurance offerings. By the end of the decade, Rush Enterprises had established itself as a leading one-stop sales and service provider. By 1992, the company had exceeded $100 million in revenue, and Marvin's vision of an interconnected regional network was taking shape. With the goal of reaching $1 billion in annual revenue, the company began an intense period of acquisition and expansion that would last for over twenty years.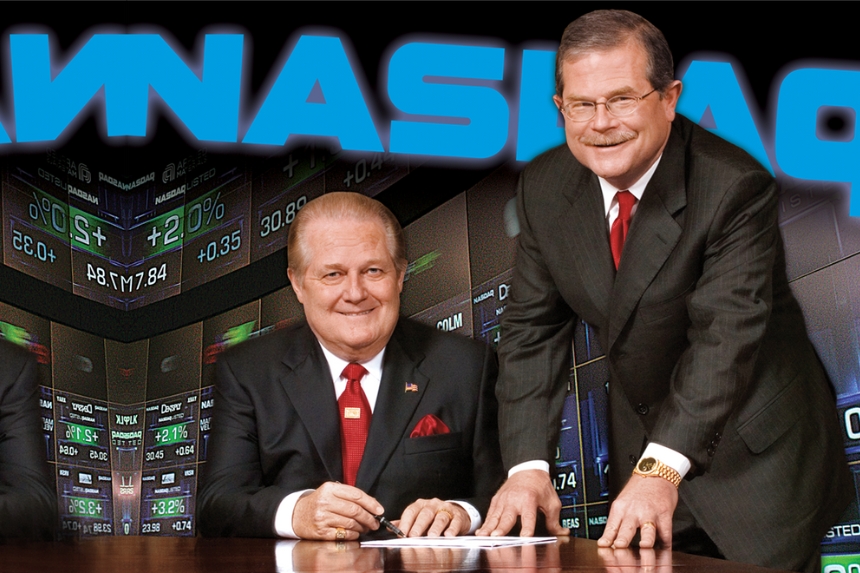 1996–2007
Milestones Reached.
By 1996, the company had grown to a point that the time was right for Rush Enterprises to go public. The Rush IPO, listed on the NASDAQ under the symbol RUSH, marked the first time a commercial truck dealer had gone public. Rapid growth continued with additional Peterbilt dealerships in multiple states, including acquisitions in Arizona, California, Colorado, Florida, New Mexico, Oklahoma, Tennessee and Texas. The company established expertise in specialty markets with the launch of Rush Crane Systems, Perfection Truck Parts & Equipment, Rush Refuse Systems and Rig Tough Truck Parts brands.
From 2003–2005, Rush added medium-duty truck franchises across the network, representing Hino, Isuzu and UD, expanding the breadth of our product offerings. Later in 2006, the company acquired its first Ford location, in Denver, Colorado.
In 2004, Rush Enterprises exceeded $1 billion in revenue, reaching the ambitious goal set by the company just over a decade before, and completed its second public offering.
In 2006, Marvin's son, W.M. "Rusty" Rush, became the President and Chief Executive Officer of Rush Enterprises, a position he holds to this day. Born into the trucking business and having worked in the business since he was a teenager, Rusty shares his father's work ethic, his business sense and, most importantly, his vision for the company.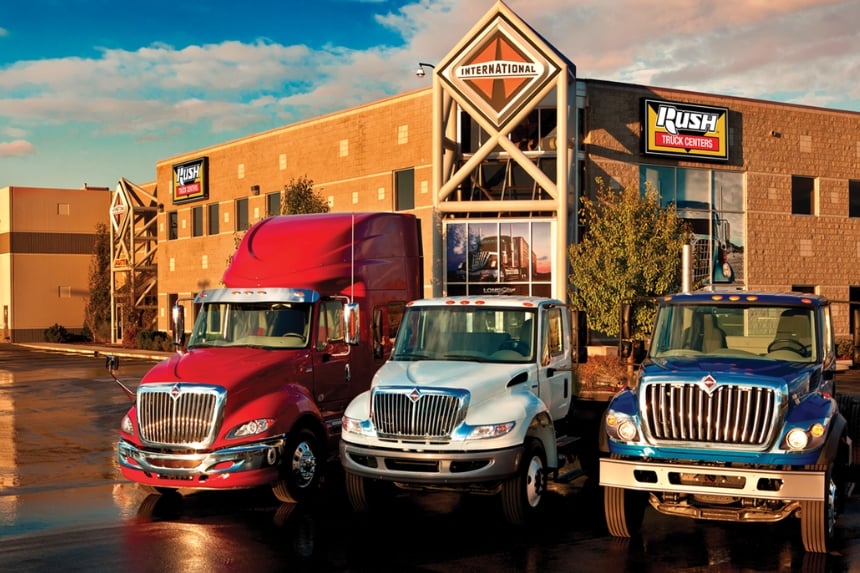 2008–2014
Integrate and Execute.
In 2008, Rush Enterprises acquired its first Navistar® dealerships, with nearly 80 to be added in the ensuing years. Today, Rush Enterprises is the largest Navistar dealer in the country.
The company expanded its medium- and light-duty offerings, adding Mitsubishi Fuso and Ford locations as well as independent used truck outlets across the country. New businesses came on board as well, with Rush Bus Centers and Rush Towing Systems making their debuts followed by the establishment of Custom Vehicle Solutions in 2011.
Rush Enterprises further expanded its suite of aftermarket solutions, with increasing focus on parts and service, launching mobile service nationwide, natural gas service facilities, a RushCare customer service call center in 2012 and a Rapid Parts-dedicated call center in 2013.
The company began its partnership with Stewart-Haas Racing in 2010, giving Rush Enterprises tremendous exposure to NASCAR fans, many of whom work in the commercial transportation industry.
With a robust network built through strategic acquisitions across the country, the company turned its focus to "integrate and execute," adopting best practices and standardized business processes throughout its network.
2015–Present
Positioned for the Future.
In 2015, the company further committed to its vehicle aftermarket business with the launch of the RushCare portfolio of services. RushCare has expanded through the years to meet the ever-changing needs of customers in the commercial vehicle industry, adding an e-commerce platform for parts purchasing, a communication system for real-time repair status updates, a dedicated service concierge team and telematics support.
Rush Enterprises introduced Momentum Fuel Technologies in 2015, later entering into a joint venture with Cummins® in 2022 and repositioning Momentum as Cummins Clean Fuel Technologies. This groundbreaking joint venture enhances production of near-zero-emissions natural gas powertrains by manufacturing Cummins-branded natural gas fuel delivery systems and offering aftermarket support through Rush Truck Centers dealerships and Cummins distributors, which service both the engine and fuel delivery system.
The company continued its strategic expansion during this time period, and in 2019, Rush Enterprises purchased 50% of the Tallman Group, extending our dealership network presence into the Canadian market, later expanding to own a 50% interest in what is now called Rush Truck Centres of Canada Limited. And in 2021, the company closed on an acquisition of 17 dealerships in the South and Midwest from The Summit Truck Group, further enhancing the support offered to customers across North America.
Today, annual revenues exceed $7 billion. Rush Enterprises spans more than 200 dealership and affiliate business locations with 8,000 employees across North America. The company is dedicated to expanding the suite of leading technologies and solutions it offers customers and to strengthening its position as the premier solutions provider to the commercial vehicle industry.